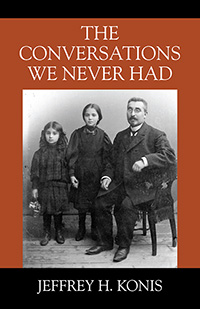 "
The Conversations We Never Had
" by Jeffrey H. Konis is an amazing book. I'm not quite sure what the genre actually is, since it combines biography, memoir and fiction.
Konis, like many of us is in a quandary. It's only when much too late he realized that he had missed a great opportunity to learn about his father's family, especially his father's biological parents. His grandparents weren't actually his grandparents. They were his father's aunt and uncle, because his grandparents had died during the Holocaust. After the war his grandmother's younger sister and her husband adopted his father, and the three started new lives together as a nuclear family in America.
I found "The Conversations We Never Had" and couldn't put it down. Prewar Europe really comes to life here. All of the characters are believable. I had to keep reminding myself that it is mostly, if not all, fiction.
It's a pleasant and easy read, very well written for the most part, and I love the fact that the book has large easy to read print. I caught a couple of mistakes a good editor should have fixed, but that's not the end of the world.
One should be corrected, because for anyone who knows the fact it can shed doubt on the possible accuracy of the entire book. Konis asked his Grandma Olga why his father's parents only had one child and was told that his grandmother had miscarried many times. Konis should have left it at that, but he continued with an impossibly inaccurate for the time "detail" about the miscarriages. Firstly, pregnancies were followed and described by months not weeks until close to the end of the 20th century. Secondly, fetal heartbeats couldn't be heard as early as nine weeks until the 1970's. When I had my older children in the early 1970's doctors could only hear heartbeats about the same time that the baby began actively moving in the womb. This bothered me, but it certainly didn't make me put the book down.
Konis is a very talented writer. His Grandmother Olga certainly comes alive as does the story he imagines for his grandparents. No doubt that most is very plausible. While reading his book I was reminded of how I don't know about my grandparents. I definitely recommend buying "The Conversations We Never Had."
CONTACT OUTSKIRTS PRESS