I had completely different blogging plans for this morning, but the news that greeted me changed it all.
Yes, there was yet another TERROR ATTACK in France. I'm capitalizing it, because the news agencies and mainstream newspapers are inexplicably putting quotation marks around the word "terror," "terrorist."
Truck 'terrorist' kills 80 in Nice Bastille Day crowd


A "terrorist" gunman killed 80 people and wounded scores when he drove a heavy truck at high speed into a crowd watching Bastille Day fireworks in the French Riviera city of Nice late on Thursday, officials said. (Reuters)
This TERRORIST ramming dwarfs all those we've suffered.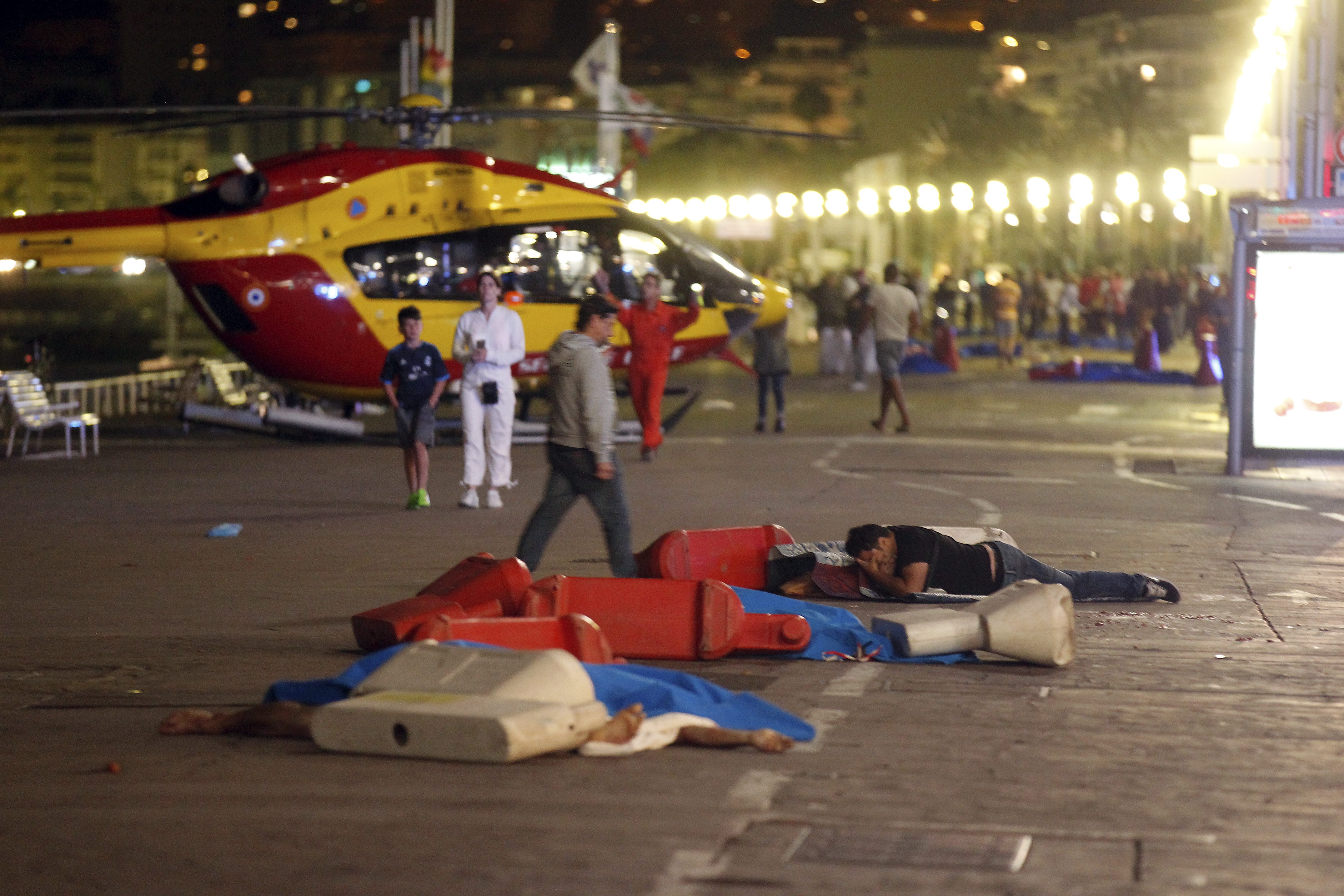 PHOTOPQR/NICE MATIN/MAXPPP/Newscom.com
French police forces and forensic officers stand next to a truck July 15, 2016 that ran into a crowd celebrating the Bastille Day national holiday on the Promenade des Anglais killing at least 60 people in Nice, France, July 14.. (photo credit:REUTERS) Jerusalem Post
Interior Minister Bernard Cazeneuve said 80 people died and 18 were in a critical condition, with many more also wounded.




Counter-terrorist investigators were seeking to identify the driver, who a local government official said opened fire before police shot him dead. The official said weapons and grenades were found inside the 25-tonne, unmarked articulated truck.




Officials said hundreds were hurt as the driver wove along the seafront, knocking them down "like skittles."




The attack, which came eight months and a day after Islamic State gunmen and suicide bombers struck the French capital on a festive Friday evening, seemed so far to be the work of a lone assailant. Newspaper Nice-Matin quoted unidentified sources as saying the driver was a 31-year-old local of Tunisian origin. (JPost)
No doubt that the numbers may climb, since some of the severely injured may not survive, and some who survive will be affected, even seriously handicapped the rest of their lives.
The world is changing for sure; it is getting much more dangerous. Fact is that a very high percentage of terrorists are Muslim and many of them are Arab, too. I'm talking just plain numbers. And western, once relatively safe, countries all over Europe and the United States, too, are welcoming lots of Arab Muslims from countries like Syria. That is in addition to the illegals sneaking in.
It's harder for an ordinary Jewish Israeli
twenty-something
to get a tourist visa to visit the United States than it is for a Syrian Muslim to be accepted as a future USA citizen.
US will welcome target of 10,000 Syria refugees, says Kerry
And we've all read those articles about European countries, especially in
Germany where Muslim refugees have taken over, changing the demography, norms a safety of what once were safe, sleepy villages
.
To be perfectly honest, I feel safest here in Israel, and when I have to travel to the states I feel more secure about paying more for a direct flight, rather than changing planes in a European airport.